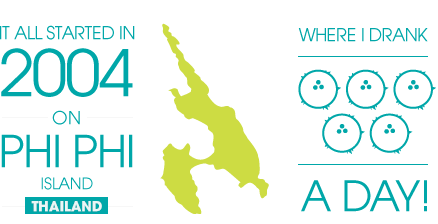 In 2004 I was honeymooning in Phi Phi Island in Thailand and it was there that I first starting drinking coconut water. With coconut trees adorning our island, these young green coconuts were plucked fresh, cut open and a straw placed inside — and this is how I drank at least five coconuts a day. Drinking coconut water I felt an immediate difference in my well being: I felt energised, hydrated, healthy and balanced, and my general fatigue and blurred eyes all seemed to disappear.
A few years later back in London I discovered packaged coconut juice drinks. Having tried many of the 'market leaders', I found the taste unpalatable, the nutritional claims not matching the product, and the product sometimes deceptively including bleach, extra sugar, fructose or flavouring. I thought I could do a lot better than this. That was my starting point.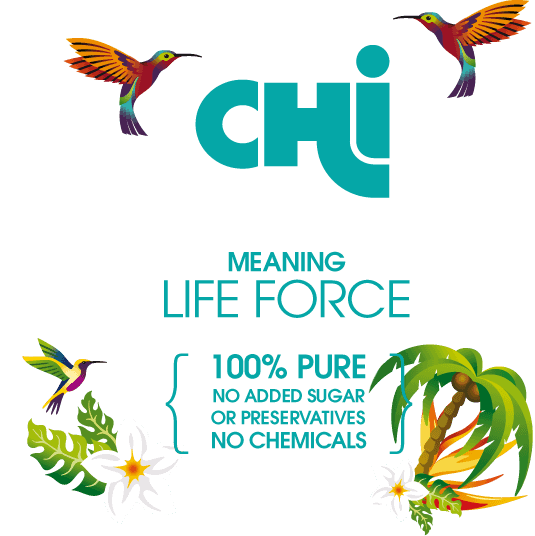 I'm a filmmaker by trade and have no retail experience whatsoever. Everyone must have thought I was somewhat mad when I went back to Thailand in 2011 having raised the seed capital necessary to fund the business. I drove around looking everywhere for the perfect coconuts for our own coconut juice drink.
Finally, in a region known for having some of the sweetest coconuts in Thailand, I met the owner of what was to become our coconut plantation for Chi.
I've tested Chi coconut water against some of the leading coconut juice drinks on the market. I went to yoga schools and held blind taste tests. Our coconut water won in every single taste test. If you ask me, it's the sweetness of our coconuts.
We then set about designing our brand. It seemed all our competitors had the word 'coco' in the name and the same stock image of a green coconut on the front. We wanted to break the mould with our name and our packaging. "Chi" means "life force" — which seemed the perfect way to describe our product.
Our coconut water, which is 100% pure, with no added sugar, no added preservatives and no chemicals, also deserved premium packaging unlike any other on the market. We commissioned a very special "chi island" illustration for the package which is symbolic of balance, hydration and provenance.


While filmmaking is Jonathan's trade and also first love, he is also a true entrepreneur at heart. British born, but raised in both LA and London, Jonathan got the idea for Chi while holidaying in Thailand.
As a writer and director, Jonathan has won numerous awards for his work. His most recent feature film is the $25m action adventure The Adventurer: Curse of The Midas Box, and the critically acclaimed family film Foster, starring Toni Collette and Ioan Gruffudd. His films for the launch of the Ford Mustang garnered top awards in the industry. His company Serendipity Films, has produced film, television and commercials. Jonathan continues his film work while ensuring the successful launch of Chi.
Jonathan regularly consults for other businesses and enjoys helping entrepreneurs grow their brand. Find out more here.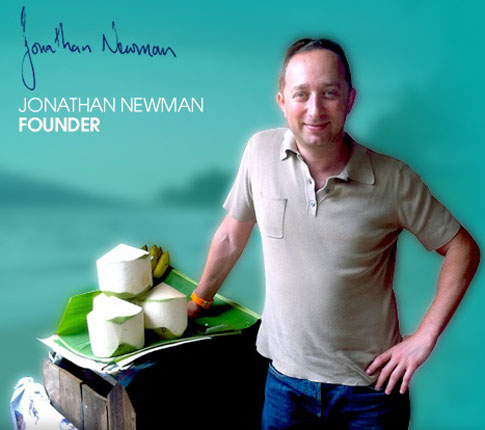 At Chi we are a small, friendly team of passionate, creative and determined individuals. We are an honest bunch, always aiming to stick by the principle that we say what we do and do what we say.
Passionate
At Chi we believe that you should be passionate about everything you do. We really care about our products and our loyal customers.
Integrity
We believe that we should always be honest, that's why our products are 100% pure and natural, we would never hide any ingredients or nasties.
Determined
We are a hard working team at Chi. This is because we are focused on being the best we can be, as a team, as individuals and with our products. We are determined to only give our customers the best quality.
Creative
Creativity keeps us fresh and up to date. We love nothing more than coming up with new products, new ways to grow Chi and new ways to stay in touch with our fans.

Women and children collectively walk 200 million miles a day to collect, often dirty, unsafe water. With every purchase of CHI, you are helping us to build water wells in the most dilapidated communities in India and Africa.
748 million people in the world do not have access to safe water. This is roughly one in nine of the world's population. Our company aim is to build a minimum of 6 water wells per year at villages that do not have access to running water.
100% of all CHI donated funds go directly towards all projects that our charity partner, Drop4Drop, conduct for each village. We built our first well in a village called S. Papannapalle, in the region of Andhra Pradesh, India in November, 2014.
Access to clean water transforms lives, creates opportunities and lays the foundations to a brighter future.  Be part of the solution and see how you can get involved too. Donating just £2 will bring clean water to a new person every month.
To view some of our previous charity activities delivering supplies to Thai orphanages, click here.